Cheetahs at Whipsnade Zoo
Cheetahs have been kept at Whipsnade Zoo (UK) for a very long time, starting in 1829. In 1967 it became the first zoo to breed cheetahs in captivity. In the past 40 years, 130 cubs have been born there.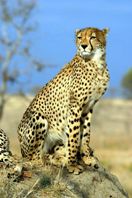 A number of years ago, the cheetah exhibit at Whipsnade was completely renovated. The part where breeding animals are kept is not visible to zoo visitors. The enclosures allow for housing the animals together or apart. In the wild, female cheetahs both live and raise their young alone. Males, however, live in groups. Contact (sight and smell) between the enclosures of the females and the males makes females' interest in males (during their fertile period) visible. For the public there is a large enclosure including a high rock formation serving as a look-out for the cheetahs. The rocks are warmed to make them even more attractive to the animals. Near the rocks is an African hut built for the visitors, with a large glass wall providing good sight-lines to the cheetahs. The hut also contains information about the cheetahs, and it houses a Landrover like the ones used for cheetah field research. Whipsnade Zoo has long been involved in cheetah research in Serengeti National Park in Tanzania.